BER Certification & Assessments

Kenneally Rochford & Associates Ltd. were among the first professional practices in Ireland to successfully complete the accredited training scheme for BER assessors for domestic buildings. Our qualified engineers have extensive experience in the construction and property industries which provides us with an in-depth knowledge of methods and materials in construction.
What is a BER?
A Building Energy Rating or 'BER' is similar to the energy label on an electrical appliance such as on a dishwasher. The energy label on a dishwasher shows how efficient in terms of energy used, the dishwasher is. A BER cert is similar to the label on a dishwasher except it measures efficiency of a building in terms of energy used and Carbon Dioxide (CO2) output. Along with the BER certificate, you will also receive an Advisory Report, which will help you to identify how you might improve the energy performance of your home.
Why do You need a BER?
A seller/landlord must provide a BER to prospective buyers or tenants when a home is constructed, sold or rented under the following circumstances:
New homes where planning permission was applied for on or after 1st January 2007.

All homes (new and existing) for sale or rent on or after 1st January 2009.

Provisional BERs are also required for planning permission from local authorities.

If you apply for an SEAI grant, a BER assessment is a requirement.
Why is BER being introduced to Ireland?
Building Energy Rating is being introduced to Ireland to meet our obligations under the Energy Performance of Buildings Directive 2006. Following from the Kyoto protocol the EU has decided to implement strategies aimed at reducing CO2 emissions. Research carried out indicated that the CO2 emissions from buildings in the EU could be reduced by up to 22% through improved efficiency in this sector.
How is a BER calculated?
An assessor from Kenneally Rochford & Associates Ltd. will visit the property to be rated and collect a variety of information about the property. The BER Assessor then calculates the energy rating using the Sustainable Energy Authority Ireland (SEAI) software. When he is satisfied that the rating is correct, he will send it electronically to SEAI's National Administration System (NAS) where it is recorded and a BER Certificate is issued. The BER Certificate is returned by NAS to the BER assessor who delivers it to his client.
A BER is based on the characteristics of major components of the property (wall, roof and floor dimensions, window and door sizes and orientations) as well as the construction type and levels of insulation, ventilation and air tightness features, the systems for heat supply (including renewable energy), distribution and control, and the type of lighting. It also covers annual energy use for space heating, water heating, ventilation, lighting and associated pumps and fans, calculated on the basis of a standard family with a standard pattern of occupancy.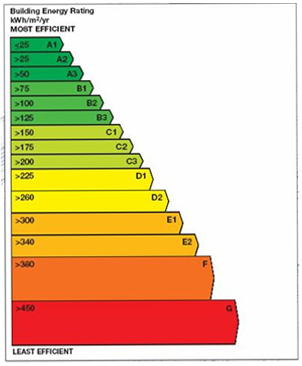 Who Carries out a BER assessment?
Kenneally Rochford & Associates Ltd.  carry out BER assessments in the East Cork and West Waterford areas. All BER assessments are carried out by registered BER assessors who have been trained under the National Framework of Qualifications and have registered with Sustainable Energy Authority Ireland (SEAI). All registered assessors must adhere to the BER Assessors Code of Conduct.
How long is a BER valid for?
A BER is valid for 10 years provided that there is no material change to the dwelling that could affect its energy performance. New homes offered for sale off plans also require a BER. In these cases, a Provisional BER will be issued based upon the design drawings and building specifications. When the home is completed, a BER based on an assessment of the final drawings and building specifications, which represent the house/apartment as constructed, is required. This BER must be supplied by the builder/developer on completion of any such homes sold off plans.
What are the penalties for not having a BER when required?
Failure to obtain a BER Certificate as required may result in conviction in a district court and a subsequent fine of up to €5,000. Failure to secure a Certificate in time may also delay the sale of the property.